search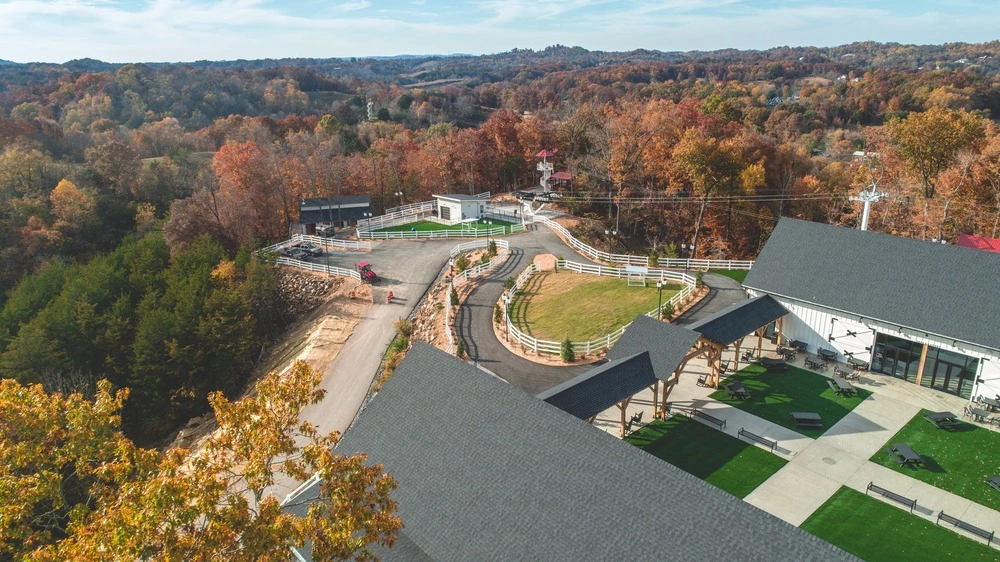 5 Reasons to Visit SkyLand Ranch in Sevierville This Fall
September 1, 2023
Are you planning on visiting the Smoky Mountains this fall? Are you looking for something fun to do during your trip? If you answered yes to these questions, then you should visit SkyLand Ranch this fall! Here are a few of the reasons why SkyLand Ranch in Sevierville is a great fall attraction!
1. Beautiful Way to See Fall Foliage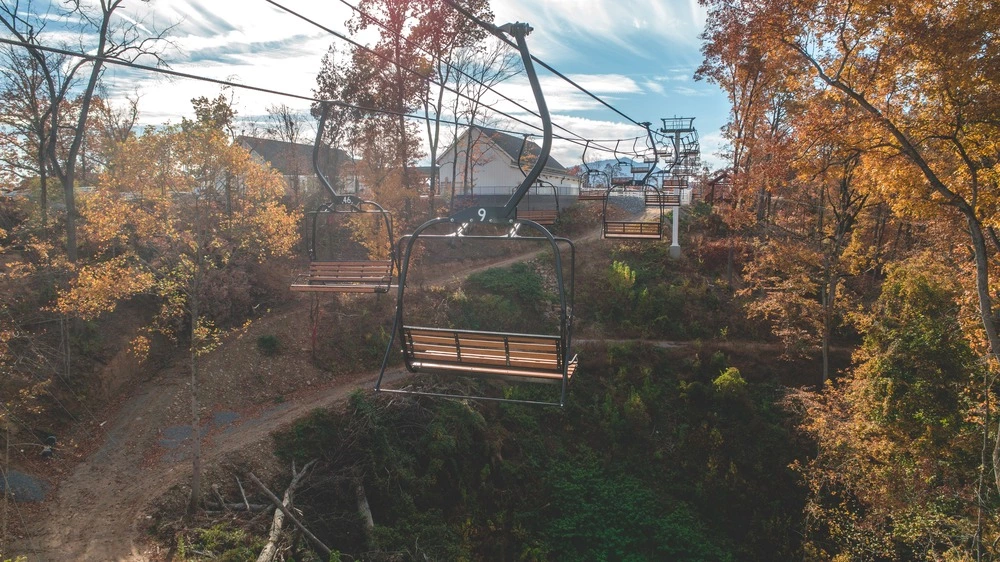 You're most likely taking a trip to the Smoky Mountains in the fall because you want to see beautiful fall scenery. Visiting SkyLand Ranch in Sevierville is one of the best ways to take in the fall foliage! SkyLand Ranch is located above the Parkway in Sevierville and offers unobstructed views of the surrounding landscape and the colorful Smoky Mountains. As you ride up The Horizon Skyride scenic chairlift, you can take in the beautiful fall colors all around you. Once you reach the top, you can walk along Legacy Lookout to see 360-degree views of the Smoky Mountains from 350 feet above the Parkway. You won't find views like this anywhere else in Sevierville!
2. Cooler Weather
Another reason to visit SkyLand Ranch in Sevierville this fall is because it's a great way to enjoy the cooler weather. In the fall, temperatures are much more mild and pleasant, with highs in the 60s to 70s and lows in the 30s to 50s. That means you won't get too hot or too cold as you explore our outdoor attraction! Fall in the Smoky Mountains is also a fairly dry season, which means you won't need to worry about avoiding rain and storms. You can enjoy the wonderfully crisp fall air by spending time outdoors at SkyLand Ranch!
3. Lots of Fun Outdoor Activities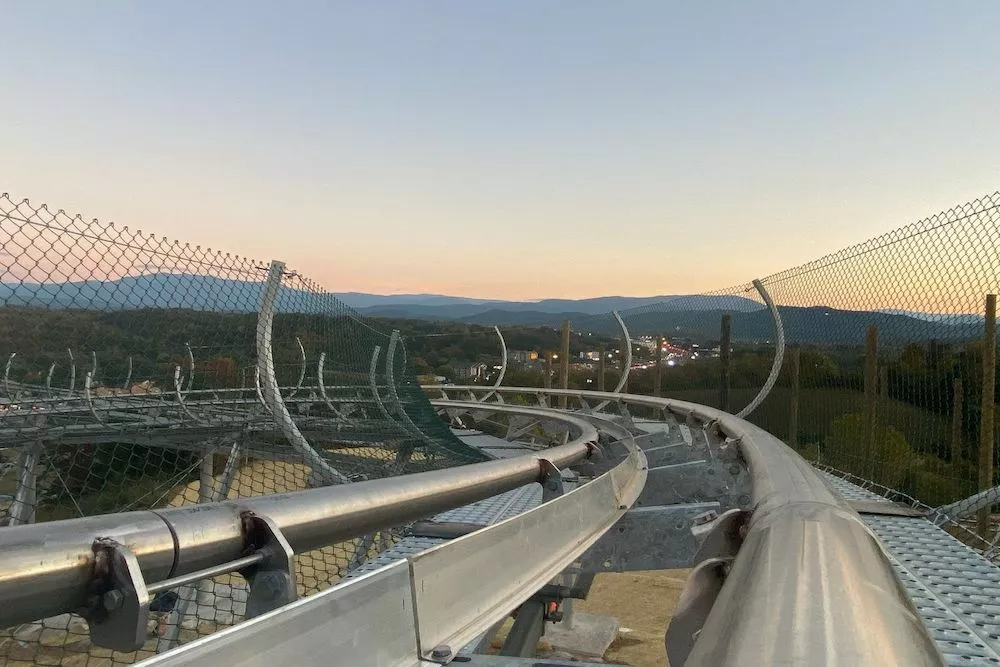 Because fall has such nice weather, you'll want to spend most of your vacation outdoors. SkyLand Ranch in Sevierville has lots of fun outdoor activities for all ages! You can start your visit with a ride up The Horizon Skyride chairlift, which offers beautiful views of the area. At the top, you can visit our miniature animal friends, including miniature cows, miniature horses, miniature donkeys, sheep, and goats. You can also take a stroll along Legacy Lookout to learn more about our Sevierville attraction and the historic farm it's built on, all while enjoying breathtaking views. Your kids will love playing at Buckaroo Playbarn and SkyLand Shootout, and your whole family will enjoy mining for gems at SkyLand Mining Company. If you want to experience the ride of your life, make sure you also go for a ride on The Wild Stallion mountain coaster!
4. Live Entertainment
Another great thing to do in the fall is enjoy some live entertainment. SkyLand Ranch in Sevierville has a full schedule of special entertainment every day, including in the fall. You may get to see performances by Gary "Biscuit" Davis or James Whipper. Most days you can be entertained by the fantastic Rudy Uresti's Wild West Show. If you're lucky, you may even get to watch a trick roping master perform amazing tricks! One of the most popular events we host is the Miniature Animal Q&A, which you can be a part of most days of the week! Make sure you check our events calendar before you arrive so you can know which live entertainment you'll have the chance to experience that day!
5. Open Late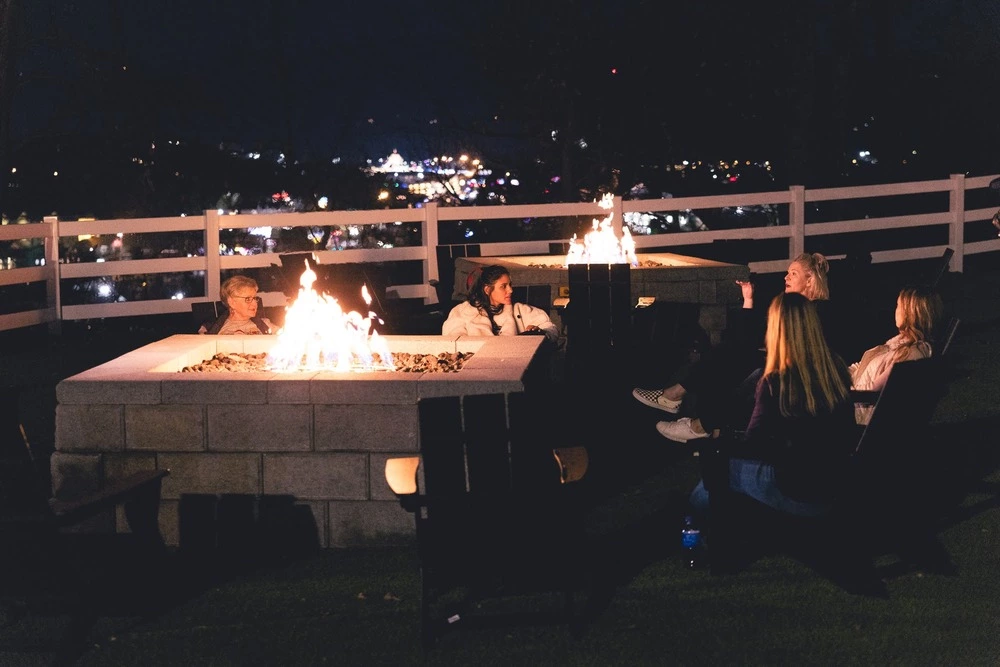 One of the reasons to visit SkyLand Ranch this fall is because of our long hours. We stay open from 10:00 A.M. until 8:00 P.M. That means you have a full day to explore all that SkyLand Ranch has to offer, even after dark. In fall, the days are shorter, which means it gets dark earlier. Nighttime activities are the most fun in the fall. You can sit around the fire pit at the top of SkyLand Ranch with your friends and family to enjoy the chilly evening air. Grab a hot chocolate or cappuccino to keep you toasty as the temperatures drop at night. After the sun goes down, you'll be able to take in amazing views of the city lights of Sevierville and Pigeon Forge below.
Plan Your Visit to SkyLand Ranch in Sevierville, TN
Are you ready to start planning your trip to SkyLand Ranch this fall? Find out everything you need to know to plan your visit to SkyLand Ranch. We can't wait to see you soon!