search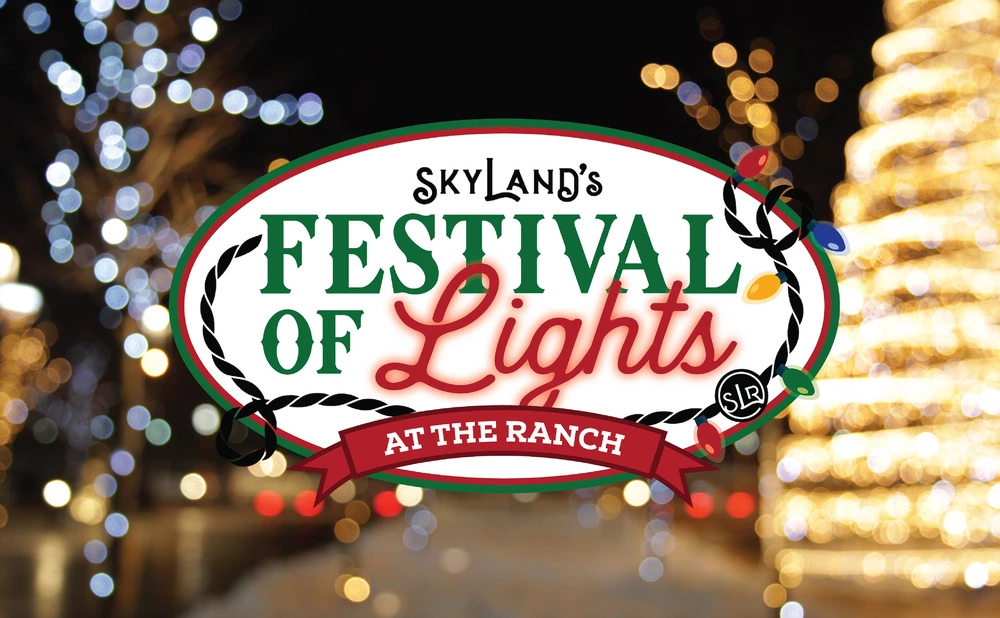 Celebrate Christmas in Sevierville with SkyLand's Festival of Lights at the Ranch
September 12, 2023
There's nothing more magical than visiting the Smoky Mountains during the holiday season! The area comes alive with twinkling lights and decorations all around. If you are looking for a fun and unique way to celebrate Christmas in Sevierville this year, make sure you visit SkyLand Ranch! Here's everything you need to know about our incredible SkyLand's Festival of Lights at the Ranch presented by Food City to help you celebrate the Christmas season at our Sevierville attraction!
What is SkyLand's Festival of Lights at the Ranch?
SkyLand's Festival of Lights at the Ranch has everything you need to celebrate Christmas in Sevierville with your family and friends during your Smoky Mountain vacation. This event will have more than 100 holiday displays featuring up to 1 million lights, bringing the Smokies to life with the holiday spirit! Some of these displays include a 25-foot tall LED Christmas tree, a light-up nativity scene, and light-up cowboy scenes to combine traditional Christmas with life on the Ranch! Our SkyLand Café & Bakery will also transform into a North Pole-themed bakery where you will find holiday treats. And don't forget to walk through the amazing tunnel of lights stretching from the courtyard to the entrance of Legacy Lookout! From Legacy Lookout you'll be able to gaze out at the millions of lights of Christmas in Sevierville and Pigeon Forge below. You won't find any other Christmas light shows like this in Sevierville on top of a mountain 300 feet above the Parkway!
When Can I Celebrate Christmas at SkyLand's Festival of Lights in Sevierville?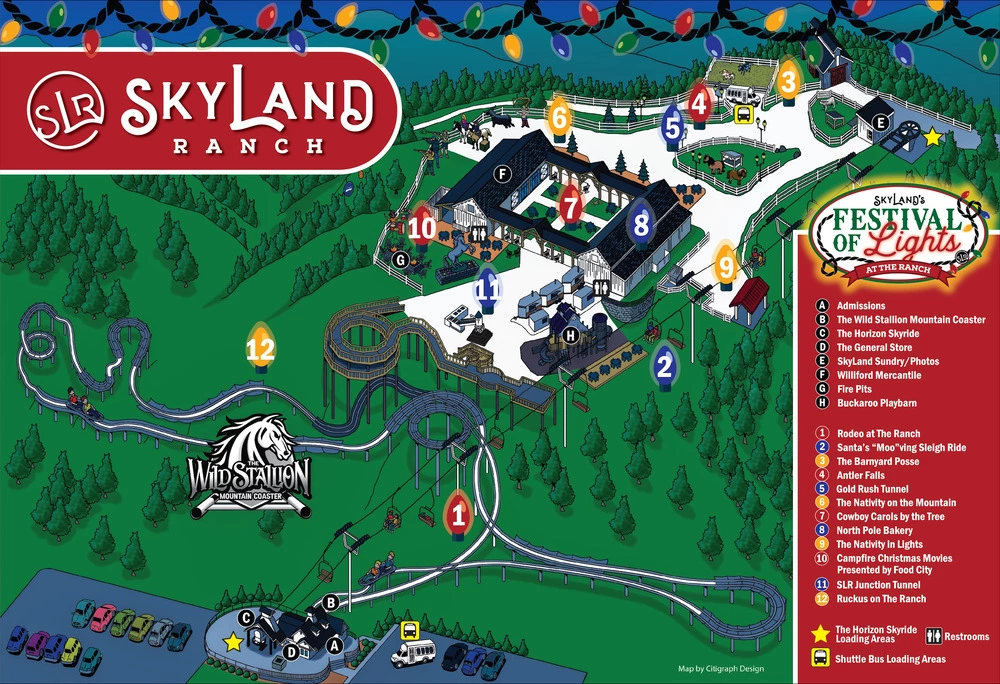 SkyLand's Festival of Lights at the Ranch will begin on November 3, 2023, and will run through February 18, 2024. You can celebrate Christmas in Sevierville at this event on any of these nights from 6:00 P.M. to 9:00 PM. This is after SkyLand Ranch's general admission closes for the evening. That means a separate ticket to the Festival of Lights will be required for entry to the event.
How Do I Visit SkyLand's Festival of Lights at the Ranch?
You can purchase a ticket to SkyLand's Festival of Lights at the Ranch online. You can then ride the Horizon Skyride Chairlift to the top of the mountain to enter the event. Once you reach the top of SkyLand Ranch, you're welcome to explore the festival! Take your time as you explore the various light displays and holiday scenery. Make sure you stop by the special North Pole Bakery for a sweet holiday treat, then enjoy it while sitting around the fire pit. Other events taking place will include Campfire Christmas Movies presented by Food City and Cowboy Carols by the Tree. Guests of all ages are sure to enjoy celebrating Christmas in Sevierville at SkyLand Ranch this year!
More About SkyLand Ranch
We can't wait to celebrate the holidays with you at our Sevierville attraction! If you are interested in learning more about visiting SkyLand Ranch, check out our Park Info and start planning your visit today!